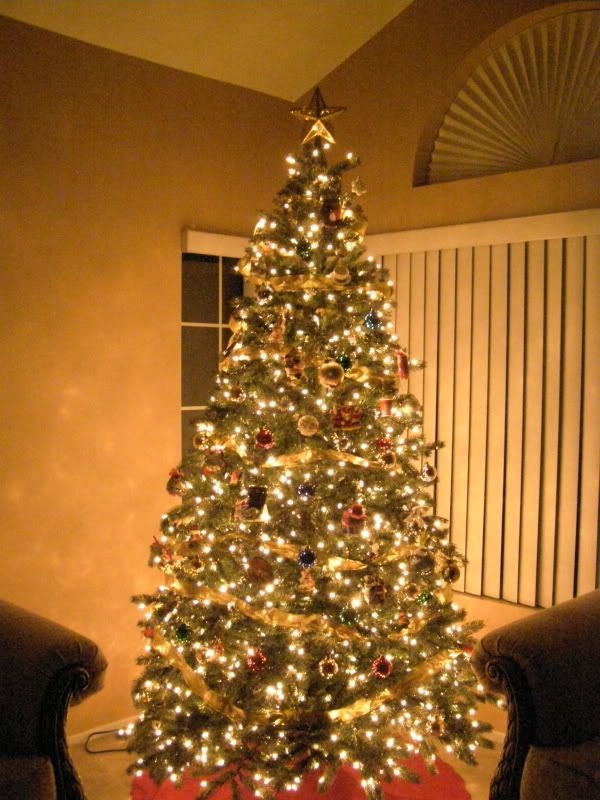 I got tagged by my friend
Carrie
...read to the end to see if you've been tagged by me!
1. Wrapping paper or gift bags? Wrapping paper! I love the giant rolls of thick paper from Costco. I get the over-priced ribbon that matches and then go to town on making them as beautiful as possible. =]
2. Real tree or Artificial? Well, I used to be a die-hard "natural tree only" kind of gal. However, since living in So. CA I have become less and less enchanted with real trees, because it is so hard to find one that looks decent and is not brown by December 26. Seriously. So, I saved and saved and plunked down a pretty penny to get a very nice artificial one from Costco. It looks very realistic, but without the fire hazard!
3. When do you put up the tree? As soon after Thanksgiving Day as I can.
4. When do you take the tree down? Usually the first week of January or so.
5. Do you like eggnog? I've read many other answers of "Yes, the non-alcholic kind"...I didn't even know eggnog had alcohol in it. I have only had the kind from the carton or jug. LOL I do love it though... =]
6. Favorite gift received as a child? My favorite gift would have to be my stereo when I was about 13. It even had removable speakers so you could get a slight surround sound feel...LOL I really thought I was cool...yeah...I think it was 1983
7. Hardest person to buy for? Usually it's for my mother or Marco.
8. Easiest person to buy for? My sisters. They just tell you straight out what they need/want. LOL
9. Do you have a nativity scene? I have one very small one and really would like to get a big one soon.
10. Mail or email Christmas cards? Mail!
11. Worst Christmas gift you ever received? One year, I was in a gift exchange at church. Someone had wrapped up some salts and seasonings for making dehydrated meat like jerky. You were supposed to use it with a machine of some sort. Seriously people? I took it to Wal Mart and got back almost $5 for it. Hmph.
12. Favorite Christmas Movie? Elf, A Christmas Story, and Charlie Brown Christmas.
13. When do you start shopping for Christmas? Ugh. Every year, I swear that I will shop throughout the year and stock up and have a stress-free shopping part of Christmas. Does it ever work out that way? No. Why? Because I always end up giving the gifts away before Christmas. I can't help it. =]
14. Have you ever recycled a Christmas present? I am sure that I have.
15. Favorite thing to eat at Christmas? I love the whole she-bang. Are you surprised? =]
16. Lights on the tree? Yes. I love lights. I'd have a jillion on the tree if I could do it without risking a house fire. =]
17. Favorite Christmas song? O Holy Night and Mary, Did You Know?
18. Travel at Christmas or stay at home? We have traveled at Christmas...very long drives to Washington, but I prefer to stay at home and have everyone come to us. ;]
19. Can you name all of Santa's reindeers? Of course - I can even sing them.
20. Angel on the tree top or a star? We have a star, but I like Carrie's idea of a crown of thorns. I've never heard of that. Great reminder - of course that is what the star reminds us of as well.
21. Open the presents Christmas Eve or morning? We have let the kids open one gift when we've had family over that has that tradition, but normally we wait until morning. Stockings get opened (or looked through) first!
22. Most annoying thing about this time of the year? When people start discussing all the nasty parts of Christmas and how annoying things are and how they don't like blah blah blah. I don't like negativity in general, but at Christmas, it just bursts my happy Christmas bubble! :)
(kept this exactly as Carrie wrote it - I couldn't agree more.) ALSO, I can't stand it that people are afraid to say Merry CHRISTmas anymore. I don't do Happy Holidays. I wouldn't be offended if someone did wish me a Happy Hannukah or Kwanza or whatever, but from me? You're getting a Merry CHRISTmas. =]
23. What theme or color are you using? We have an anything goes attitude. I love putting out all the hand-made Christmas things from my children and my siblings. I love hand-made and store-bought items.
24. Favorite for Christmas dinner? I miss my dad's turkey and gravy. I miss my grandmother's creamed corn...mmmmm....
25. What do you want for Christmas this year? I do not have anything in particular in mind. I have been eyeing a special item at Michael's, but I am hoping I will have enough birthday money and gift cards to cover that (if it goes on sale)...a nice purse would be cool...more scrapbook stuff never hurt anybody....I like Carrie's idea of a mother's ring, too.
Okay...I am going to tag: Hannah, Tabitha, and Shirley (I left my other siblings for Tabi to tag. ;])