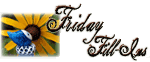 1. Please feel free to
leave me a comment and leave your name so I know you stopped by!
2. When I
buy a new book
I can't help sniffing it occasionally.
3. My favorite thing to cook is
chicken taquitos.
4.
Hugs and kisses from my children and my husband
is something I can't get enough of.
5. That's the thing I love most about
family.
6.
Young girls and women that use foul language out loud and in public
always makes me think to myself, what the heck?
7. And as for the weekend, tonight I'm looking forward to
taking Taryn to cheer practice and getting ready for her party
, tomorrow my plans include
cooking a ton of taquitos and celebrating Taryn's 9th birthday
and Sunday, I want to
spend time with my family in the house of the Lord, have a great lunch together and take a Sunday nap (those are always so nice)
!